Posted May 8, 2018
Teens Present Final Research at End-of-Year Symposium
Laughter and good-natured ribbing was the response of the day as teens in Science & Justice presenting their research in their own peer-review symposium.  For some students it was their first time tackling a major, long-term research project with a group. This year students chose their own topics, with the topics falling into a range of biological, ecological or sociological studies.
For those students unable to make it to the ISU Symposium at the end of April, the in-class symposium was a way for them to make their own presentations. Friends and families came to celebrate the students' work. These projects incorporated many layers of learning– not just the research portion into the content of the project, but also time management, team-building, cooperation and collaboration. Dr. Kulmala emphasizes that science today is no longer conducted by one lone guy in a lab coat hovering over test tubes by himself. Today science — and much of 'the real world' consists of teams of people working together over months on a project. Teen Learning Lab gave these students the opportunity to build the same experience for themselves, taking charge of their own education.
Posted May 7, 2018t
Komorebi 'Zine  is Launched!
Teen Learning Lab teens wonder: do you lose your ability to imagine as you age? Is the decrease in music education in schools connected to the rise of toxic masculinity? What is the neuroscience of sleep deprivation and its effect on teens? What is it like growing up with racism? How can we address racism, sexism, homophobia and other bigotry? Teen Learning Lab students in this year's Essayistic teens tackled these and other questions in their personal essays, published as a 'zine, along with its own website.
On Friday, the class celebrated the publication of the Komorebi 'zine with a screening of "Curses of Clutter," a video documentary by one student, and a listening to another student's audio collage, "Summer Birds: A Symphonic Sound." Students gave readings of their essays.  In one essay, a student reflected on the genius of Stan Lee, and how his achievements in the comic superhero world give hope that imagination does not diminish with age. Another essay argued on the need to increase music education in
schools, if only to offer alienated young men positive ways to express themselves.
Other essays reflected on the specifics of each teen's identity. Students wrote movingly of their experiences with racism, as well as the pressures to alleviate all the suffering in the world.  One student gave advice on how to address bigotry.  This is just a sampling of the many essays students wrote.
Back in September the prospect of expressing inner thoughts in writing, for an audience, was too daunting for many of the students. Their thoughts were private, undeveloped, and certainly not ready to be said out loud or written down. But over the course of the year, the students read many personal essays written over hundreds of years, from "The Art of the Personal Essay," an anthology compiled by Phillip Lopate. They held impassioned
discussions — and some heated arguments — often inspired by discussions and assignments from other Justice Project courses.
And over time, students found that they each had something vital that needed to be said. They were encouraged by essayist Megan Stielstra, who told them in a class visit to "write about what you and your friends are fighting about."  I am so proud of the TLL students. Their essays show what is in their hearts — their deep-seated, burning need to make the world a better place.
Posted April 28, 2018
A Madness to their Methods
Despite getting up at about 4:30 a.m. to get to Normal, Illinois by 8 a.m., Teen Learning Lab students were ready to present their research projects to professors at Illinois State University. TLL students joined more than 200 Illinois high school students at ISU's High School Science Symposium. TLL students found their assigned tables, and quickly set up their trifold posters. Some made last-minute adjustments while others carefully arranged display items. Teens arrived from all over the state, all of them making the same preparations. At their tables were name tags that not only listed their judging times but also their times to participate in activities to the side. As they waited to be judged, TLL teens rehearsed their presentations and looked over the other students' presentations. They met and visited the other student-scientists, looking at their posters and listening to them talk about their own projects. It was an awesome opportunity for our teens to reach out to
their peers and share their passions for science!
After lunch, Dr. William Hunter, the director of ISU's Center for Mathematics, Science, and Technology, which sponsors the High School Symposium, encouraged student-scientists to email him directly with for more information about upcoming
opportunities, from summer research programs to mentoring to undergraduate summer internships when they are older.  
The Science & Justice students fielded four group projects, many of them inspired by this year's Justice theme. Some students analyzed society's expectations of beauty and body shape in women. Others studied the psychology of lying. In a timely project, some students examined ways to assess the state's plan to address the opioid crisis. And others looked at ways to measure water quality. Congratulations to all our Science & Justice Students! Well done!
Posted April 24, 2018
Justice is served best with pizza
Many small moments of drama ensued at yesterday's Justice Project Mock Trial. Witnesses, portrayed by students, wrestled with reciting tongue-twisting medical jargon. Lawyer-students tried to wear down hostile witnesses, while the hostile witnesses coolly stared down their student inquisitors. Lawyers from both teams leaped to their feet with dueling objections throughout the trial.  At one point, the bailiff was dispatched to attempt to save a burning pizza.
In the year-end project, Teen Learning Lab students staged the trial of the fictional Taylor Cartwright, charged with involuntary manslaughter and hazing. Students took on roles of witnesses, accused, prosecution teams and defense teams, often wearing multiple hats.  Volunteer teens and parents were the jury and bailiff. Mrs. Dirnberger, the instructor, served as judge.
Throughout the evening, questions swirled in the minds of court observers: Would the witnesses remember all their memorized testimony? Would the student-lawyers be able to present their cases clearly to the jury? Would the students think quickly enough to counter objections from the opposing team?  Does it smell like a burning pizza? Will the many pairs of siblings on opposing teams be able to live with the verdict?  Finally, what would the jury decide?
The jury deliberated in the courtroom, so that the students could observe directly and learn how their arguments were received. The prosecution had to prove its case beyond a shadow of a doubt; the defense had only to cast doubt on the prosecution's case. After about 20 minutes of deliberations, the jury reached its verdict: not guilty on both counts.
This slideshow requires JavaScript.
Posted April 21, 2018
Nearing the end and hungry for MORE
All the assignments are turned in, and all the preparation is complete.
OK, OK, being teenagers, I know that that statement is not quite true for all Teen Learning Lab students. Still! It is exciting to see the flurry of excitement as deadlines hit and these students rise to all the occasions: on Monday, April 23 we have the Mock Trial! On April 27 the ISU Science Symposium! On May 4 the Essayistic's Zine Launch Party and TLL Family Science Symposium!
Instructors Lee Ferdinand and Leslee Dirnberger briefly reflected on how students responded to their Justice Project classes.
Lee created the Essayistic class specifically for Teen Learning Lab. When the class began in September, there were a number of students who indicated that they did not want to participate in creating the Zine — they did not want to write anything, or they felt too self-conscious to participate, or they were too shy. But over the course of the year, most of these students have changed their minds, and are enriching the Zine in amazing ways with their own artwork, their creativity, their own voices in their essays, and their quiet leadership behind the scenes. In addition, Lee marveled at how organized the students were in their online Snap group– while there is typical teenage silliness, there were also thoughtful and thought-provoking discussions. They also had files in Snap for the Zine's essays. (As well as files for their silliness, because, this, too, is vitally important to teens and therefore need to be organized.)
Some of the students reflected that there was not enough to do, despite the evidence that they had truly accomplished quite a bit. 'Schoolwork' is no longer viewed as 'work' but as a labor of love or a passion project. Isn't this what we want our students' education to achieve?
Mrs D reflected on how the second semester seemed to be both too long and too short. Too long, because for many weeks the students seemed to be moving v e r y s l o w l y in their assignments for the trial. Too short, because being smart students, many of the teens seem to procrastinate their preparation for the trial. Smart kids assume they can get the work done at the last minute. So, on Friday, some witnesses still did not have their answers memorized, and opening or closing statements needed major revisions.  Yet the students are rising to the challenge, jumping in to help each other, either on Fridays or online throughout the weeks. And, isn't that cooperative learning valuable?
Can't wait to see their final presentations!
Posted April 14, 2018
Rough drafts and practicing
The Justice Project is moving toward the completion of  the students group projects after 23 weeks of class meetings. Above, students in Essayistic finished their essays, finished editing other students' essays, began laying out the magazine, and finishing the magazine design.
Below, right, in Mock Trial, the Prosecution team worked on their witness examinations and arguments. Left, a member of the defense team practiced her presentation to the court for instructor Leslee Dirnberger.
Below, Science & Justice students were finalizing their projects for the ISU Symposium on April 27. Drafts of for their research poster are due this week. Next week they will work on finalizing their posters, then practice presenting their research. Some students are working in groups, and some are working on solo projects.
Posted April 7, 2018
Tick, tick, tick, tick….
Well, it's April! We have two more class meetings before this year's class projects are finalized. The Mock Trial class will holds its Mock Trial on April 23, and the Science & Justice Class will present its projects at the Illinois State University's High School Science Symposium on April 27. Nothing like a looming deadline to sharpen the focus!
Essayistic students will be moving into the layout stage of their class 'zine — They will be literally cutting and pasting their essays into their layout design. Mock trial students are practicing their witness-questioning strategies, honing their opening statements and closing arguments. Science & Justice students are writing up their synopses, procedures, and research, in preparation for pasting up their project boards.
Can't wait to see how it all turns out!
Posted March 27, 2018
Different side of justice system
Residents at St. Leonard's Ministries gave Mock Trial students some life advice during a visit on Monday.  "You can't make big changes on your own," one resident said. "You need help and encouragement. I had to learn the hard way. It took me 21 years." He had entered the prison system at 19, has been in and out of prison for the last 21 years, and had asked for help at St. Leonard's.ll
Starting in 1954, St. Leonard's has been helping people transition from prison from their residences on the West Side. The men's facility has 114 residents, and a women's facility, called Grace House, has 17 residents. With a recidivism rate of 20 percent — far better than  the state-wide rate of 50 percent. St. Leonard's can house more residents, but lack the funds to provide services to more people.
Teen Learning Lab students toured the facility, helped to organize the clothing room, and ate lunch with residents. Residents were interested in the TLL theme of justice and empathy. Said one:  "You can't put justice and empathy under the same umbrella in our system. Society wants justice–and empathy  doesn't have a part in that in our system."
Posted March 17, 2018
Week 20: Nitty-gritty of projects
At Week 20 of The Justice Project, students are starting to see their year-long projects nearing their end. In Essayistic, the students began the process of figuring out how to edit each other's essays, design the layout of their class' zine, as well as begin the process of creating the  'zine's website. Above, students in Mock Trial learned skills in how to refresh a witness' memory — without leading that witness.
In Science & Justice, Dr. Kulmala taught the students the details of study design, focusing on designing clinical trials. She explained how the structure of a scientific clinic trial can be applied in other fields, such as business. The students were to work on developing their Materials and Methods of Study. The students — in class on Friday and during the week — are to set up the parameters of their study, including documenting what they are including and excluding in their trials. They need to document, "Why we are studying this particular question or phenomenon?" For each group, the answer to that question will give them guidance in how to proceed as they design their study. In addition, they need to compile and review previous research, and understand the content of that research. Students also filled out their group applications to the Illinois State University's High School Science Symposium, sponsored by ISU's Center for Mathematics, Science and Technology, held April 27.
Posted March 10, 2018
The pace is picking up in Teen Learning Lab classes as we enter the last two months of the program. In Essayistic, students will be turning in their first drafts for the student 'zine, and student editors are busy discussing with student writers aspects of their essays. With multiple layers of student editors, it seems many students have the chance to be both editors and writers. As a former reporter and assistant editor at the Chicago Tribune, I can say that editing makes you a better writer, and writing makes you a better editor.
In Mock Trial, the Prosecution worked on their case, including practicing how to question a hostile witness. the Defense team continued to work on their defense.
In Science & Justice, students took a break to learn how raising chickens at home is a justice issue — they can provide inexpensive protein to families in poor communities, among other things. In addition, students also got a lesson about bird anatomy, organic vs Big-Agriculture eggs, how to raise chickens, the biology of salmonella and how to prevent that disease. They also saw first-hand how the chicks have personalities, and their handling of the chicks helped socialize them. And, the baby chicks are cute!
Posted March 5, 2018
Editing, expert witnesses and inquiry
Above, students in Essayistic organized their essays and films into editorial sections for their class 'zine. Students are moving along in their multiple projects in all three Justice Project classes.
In the Essayistic class, students have organized themselves into multiple tiers of editors and designers to produce a class 'zine. Student section editors are set up to edit student writers' essays, the student designers are working on a design for the 'zine. All students are contributing, and most are writing on topics ranging from the history of a student's house to perspectives on free speech to reflections on the creative process from childhood to the teen years, and an analysis of the monster genre in film and literature. Students are also producing short films and musical performances.
The Defense and Prosecution teams in the Mock Trial class learned how to handle objections and introduce evidence, before breaking into their teams to continue preparing their case for the Mock Trial at the end of April.
In Science & Justice, students are working on at least 8 group and individual projects, with the goal of presenting their projects to the class on April 13, before presenting at the Illinois State University High School Science Symposium on April 27. It was a busy class day!
Posted Feb. 25
Forming, STORMING, Norming and Performing
On Friday we talked about how all the group projects are going. Here in the depths of February, it is easy for the student project groups to get bogged down. Breaking a large project into smaller tasks, doing those tasks, setting goals, keeping on track are all skills that are hard for teens to learn, and even hard for adults. We reviewed group dynamics, via Bruce Tuckerman's model from 1965: Forming-Storming-Norming and Performing. In our model, we show the students how enthusiasm is high at the beginning of the project, when the group is "Forming." However, the skill level of the group is low. Enthusiasm plummets as the group enters the "storming" stage and individuals start to develop more skill. As skills improve, the group enters the "norming" stage and enthusiasm starts to improve as well. Finally, as the group starts working together as a team and starts "performing" with both high skill and enthusiasm. At the end of February it is hard for the teens to see into the future, but each week the instructors help them further in their projects.
There are thousands of images for this group dynamic. The graphic above emphasizes the personal commitment, self-discipline and trust that is needed for the group to develop in a healthy way. Below, cartoon people demonstrate a great deal of angst during the "storming" stage, before taking the next steps to "norming" and "performing."
Posted Feb. 17
"We have to give ourselves permission to make a mess"
Essayist Megan Stielstra gave Essayistic students a glimpse into the life of a professional writer, as well as practical advice on how to make sense of the world through their own writing. She urged them to write every day, even if it is not very good; she has a daily goal of writing 500 words every day. "You have to honor the fact that it's a mess," she said. "We have to give ourselves permission to make a mess. This is work–it's showing up every day." She will go back to her daily writing and find passages, sentences or ideas on which she build and develop into full, polished essays. She also urged them to make the distinction between the practice of writing vs the sharing of writing. "I encourage you to have a space to make the work first for you–then you can decide whether to share it with the world," she said.
Students asked how to get motivated to write, and how to start writing when you can't think of something to write about. Stielstra read from her latest collection of essays, The Wrong Way to Save Your Life, in which her essays explore fear. In an exercise from her book, she had them draw a line across their page, with one end marking their birth and the other end marking the age they are now. On the line, she had the students mark Xs at each age where they had a fearful experience. Each of those Xs could be an essay, she told them. This technique can be used for any subject, she said.
Stielstra encouraged the students to be aware of cultural conversations as fodder for their own writing. For inspiration and guidance, she encouraged them to read many kinds of essays, and cited Op-Ed essays in newspapers, Edgar Allan Poe, Anton Chekov and Samantha Irby's We Are Never Meeting in Real Life as examples of essayists and sources she reads.  She also recommended the students ask themselves three questions: Does this need to be said? Does this need to be said by me? and Does this need to be said right now? These questions help writers distinguish between when it is time to contribute and when it is time to listen, she told them.
Her own regrets about her school years centered on lost opportunity, Stielstra told the students. Because she was waiting for her schooling to be over so she could pursue her dream of being a writer, Stielstra said she missed chances to get a head start on that dream. "Make your assignments connected to the things you want to do," she said.
She told them writing "helps us know we are not alone in the world."
Posted Feb. 6, 2018
Mid-Winter Planning for Prosecution & Defense
This slideshow requires JavaScript.
Mock Trial students last week learned how to question witnesses, particularly witnesses who are trying to hide the truth. They viewed the witness scene from To Kill a Mockingbird, to see how Atticus Finch shows that Mayella Ewell is lying in her testimony. The students learned when to allow a witness to talk too much, in an effort for the witness catch themselves up in their own lies. While these may be lawyerly "tricks," the goal for lawyers is to get at the truth of what happened, even when witnesses are trying to hide the truth. The purpose of a trial in a court of law is to serve justice — and justice demands the truth. Over the weekend, students watched A Few Good Men at Law Movie Night, noting scenes where lawyers try to redirect the jury's attention to get a witness' testimony back on track. Even there, the idea of justice and truth are the subtext of Tom Cruise's movie — Jack Nicholson's line, "You can't handle the truth!" highlights the different perspectives of "truth" and "justice" in the movie.
Above, students on the Prosecution Team met to start planning their arguments, and the Defense team met to plan their defense.  Several students were home recovering from the flu, but the Defense team held a video/phone conference with some of the missing–you can see the phone on the table.
Posted Jan. 28, 2018
January Games Day
January seemed a little less long and dreary with a Saturday afternoon Games Day, with extra tree-climbing thrown in.


Posted Jan. 21, 2018
Running Around on Purpose
This slideshow requires JavaScript.
Teen Learning Lab students take their break time seriously. Above, on Friday, some hardy souls practiced volleyball. If you look carefully, some were still eating lunch as they played.  With classes 90 minutes long, and three classes going from 9:30 a.m., to 3 p.m., physical and mental health breaks are critical for the students' classroom success.
Not everyone goes outside — some of the students prefer to stay inside, socializing with each other and building bonds and community that way. We have two breaks — a 45-minute lunch from 11 to 11:45 a.m., (after Essayistic, the first class of the day), and a 15-minute break at 1:15 (after Mock Trial, the second class of the day.).
This slideshow requires JavaScript.
Posted Jan. 13, 2018
Big plans start Second Semester at TLL
Jan. 12, 2018 saw Justice Project classes start planning for their year-end projects as students began the second semester of the Justice Project.
In Essayistic, students organized the Editorial Board of their class 'Zine. Above, the whiteboard shows positions needed: Editors-in-Chief, Designers-in-Chief, Designers, Section Editors, Copy Editors, Proofreaders, Production Managers, plus proposed titles, including "Chiberia." Students planned their end-of-the-year Magazine Launch Party, with readings of included essays, performances, and personal videos created by some of the students.  The class will use this semester to create their 'Zine from student writing and art.
In Mock Trial, the class learned the basics of writing Opening Arguments, and watched a court video of the opening arguments made by the prosecution in the 1995 O.J. Simpson trial. The class will spend the semester planning to conduct a full Mock Trial at the end of April.
Science & Justice students met in their small groups to organize their long-term projects, which will be presented at the Illinois State University High School Symposium on April 27 in Normal, Illinois. The class also discussed two books assigned over the winter break: The Boy Who Harnessed the Wind by Brian Mealer and William Kamkwamba, and Adventures of a Female Medical Detective: in Pursuit of Smallpox and AIDS, by Mary Guinan, PhD.  Class discussion focused on how well-meaning philanthropists can misjudge the needs of people living in developing countries, based on misconceptions stemming from a developed-country world view.
Makeup Science & Justice Class Lab on Genetics
On Saturday, the Science & Justice students had a makeup class (Dr. Kulmala was sick one week during first semester. The students consulted with Dr. Kulmala about their year-end group projects, then worked together in their teams planning their experiments. In class lab work, the students learned how to use the polymerase chain reaction (PCR) to amplify or clone a selected sequence of DNA for the purpose of creating enough specific DNA to study. The electrophoresis gel helps show the specific DNA sequence needed, as well as the best number of cycles of PCR needed to create the most of the sample. And, the students ate pizza, snacks, played cards and had a very short Nerf battle in the woods outside. Then, they sipped make-your-own-flavor of hot chocolate!
Posted Dec. 5, 2017
DIY Hydroponics Lab at Chicago Botanic Gardens
Science & Justice students designed and built hydroponic systems for growing lettuce in a terrific lab at Chicago Botanic Gardens last Friday. Students learned that hydroponically grown produce is more efficient, economical and responsibly ecological than traditional agricultural practices. Students divided into four teams to design and test their systems. All the teams developed very different systems while overcoming various problems and obstacles.
This slideshow requires JavaScript.
Posted Nov. 18, 2017
Pre-Law class debates the nature of justice
In wrapping up the Pre-Law class, students broke into small groups to discuss the nature of justice, as per Theodore Roosevelt: "Justice consists not in being neutral between right and wrong, but in finding out the right and upholding it, wherever found, against the wrong."
Crime Investigation Part II
Science & Justice students completed their forensics labs, examining fibers, ink, powders and DNA samples found at the fictional crime scene.  Over the long winter break, Science & Justice students will attend a second field trip to the Chicago Botanic Gardens for a DIY Hydroponics Lab, and a Science Class & Party to finish first semester lessons and start preparing for second semester research projects.
Posted Nov. 11, 2017
Writing essays, arguments; investigating a "murder"
Week 9 of The Justice Project found Teen Learning Lab students busy writing, critiquing and investigating. Essayistic students discussed a film about girls' cliques, then began preparing for their final essays of the semester. In Pre-Law, pairs of students presented arguments for enacting a law against bullying and then questioned those arguments. Science & Justice students plunged into forensic science by investigating a "murder case," complete with a discarded shopping list of materials the alleged murderer needed. Photos from the classes below — click on the image for a caption.
Filling "Valleys of Ignorance"
Posted Nov. 5, 2017
At Teen Learning Lab, we ask a lot of our students. Our classes have heavy reading and writing assignments. Many of the readings are pulled from college or even graduate-level courses. We are asking them to discuss and debate intense, emotional topics such as sexism, bullying, gender rights–in an intellectual way. These can be tough discussions for some of our students, and it can be hard for some to make friends with students who voice opposing viewpoints.
There are important cognitive benefits from directly confronting opposing viewpoints.  Howard Gardner, a renowned Harvard psychologist who introduced the concept of multiple intelligences, has studied how hard it is for individuals to change their minds about deeply held beliefs. In his book Changing Minds,  he discusses the power of early childhood, intuitive beliefs. These beliefs are universal and they retain potency because they seem to ring true: "Individuals who are big are powerful," for instance, makes sense to a 5-year-old to whom the most powerful people in the world are adults–bigger people.  The more these childhood beliefs gain and retain traction, the more the beliefs dig trenches, or "valleys of ignorance" in an individual's cognitive growth, according to Gardner.  One childhood belief that is hard to dispel is "If you look like me, you think like me."  This belief plays out when opposing sides are gender-aligned, for instance.
Our goal at Teen Learning Lab is to fill these "valleys of ignorance" with knowledge, and so help the students approach their learning from a more intellectually curious perspective. This approach will help them excel in college and in life beyond college. The world needs more individuals who are intellectually curious about differing opinions, and who are willing to consider the possibility that they may actually change their minds. In doing so, they just be surprised to find that they have new friends.
Student dispatch from Week 6
Posted Oct. 28, 2017
Oct. 21, 2017
Testing Air Quality in Science & Justice
Week 6 found the Science & Justice students taking air samples from outside the TLL building, and then examining the samples under a microscope, as they continued to their study of environmental science in regards to how communities can monitor the health of the environment.
Essayistic students prepared for an upcoming assignment to write a polemic by engaging in a vigorous discussion of gender and harassment.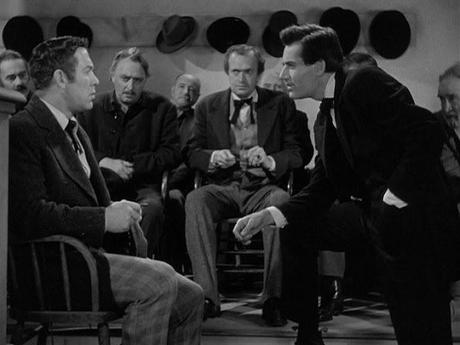 Abraham Lincoln (Henry Fonda) questions the witness for the prosecution, J. Palmer Cass, in Young Mr. Lincoln.
Pre-Law students  screened John Ford's 1939 film, Young Mr. Lincoln, specifically for the  courtroom scene. One highlight of Lincoln's cross-examination of a witness was when Lincoln wondered why the witness, named J. Palmer Cass, didn't use his first name, John, or Jack — perhaps it was because then the man's name would be Jack Cass? This line was followed by uproarious laughter from the court and observers.  This weekend, the class screens 12 Angry Men at Law Movie Night.
Oct. 13, 2017
Week 5 Student Dispatch
By Eliza
Oct. 9, 2017
Student Dispatch from Essayistic class
A big welcome to our first Student Correspondent! We hope to feature student dispatches from The Justice Project classes as a way to share what the students are learning.
By Eliza
"As we sat in Essayistic last Friday, we listened to several unidentified essays from our classmates.  A major focus of our first Essayastic essay was zooming from micro to macro perspectives on a particular hope/fear theme.  We used memories as the conduit for considerations of failure, confidence, gender, society, and individuality, among several others.  We explored our sociological deep dives through dinos, Shakespeare, grey glass, tae kwon do, and everything in between.  Not to mention, a taxidermy fox.  Despite our wide array of memories and writing styles, big concepts were communicated with raving success and I look forward to next week's class. "
Oct. 1, 2017
Law Movie Night: To Kill a Mockingbird
Pre-Law students gathered over the weekend to screen the 1962 To Kill a Mockingbird, paying special attention to the courtroom scenes. In a brief discussion afterward, students considered whether justice had been served– a discussion that will continue in class on Friday.
Essayistic: Fasting, Baldwin and the Inner Editor
On Friday, students discussed hunger strikes and eating disorders after reading Wole Soyinka's essay, "Why Do I Fast?" The examined James Baldwin's writing style in his essay, "Notes of a Native Son." And they considered the voice of their Inner Editor, as Mr. Ferdinand encouraged them to "keep the inner editor at bay" while they tackle their first essays.
Pre-Law: The Laws of Bryan
Pre-Law students began the process of creating laws for their fictional planet of "Bryan." On Friday the students decided to subjugate societal norms to codified laws: On Bryan, if there is no law prohibiting murder, then a resident of the planet cannot be prosecuted for murder. The students then considered whether the enforcement of their laws could be mitigated by circumstances: they were presented with a murder case that had strong components of self defense. The students decided they were strict constructionists: Because the original law was not written to allow for cases of self-defense, the defendant had to be found guilty. In the coming weeks, more about the law of Bryan will emerge in class as they consider additional cases.
Science & Justice: Pros and Cons of Single Payer
Students learned about aspects of the U.S. health insurance system, compared to other countries. They then broke into teams to research and argue the pros and cons of a single payer health insurance system. Above, a student presents arguments for his team.
Sept. 23
Week 2 of Justice Project
In Essayistic, students analyzed what makes an essay, looking at an essay by George Orwell. In Pre-Law, students discussed the difference between ethical/moral responsibilities and professional responsibilities of lawyers. They also learned the parameters of law-making: when do we need a law, as opposed to a policy? How detailed should a law be? What is the difference between policy and law?
In Science & Justice, students conducted water testing of samples from Lake Michigan, a pond in Evanston, and Dr. Kulmala's home well. Students tested for phospahtes, nitrates, pH, chloride, hardness, dissolved oxygen, and coliform bacteria. Below, clockwise from top left: testing water samples; recording results; the group gets started.
Sept 18, 2017
Floating Classroom in Lake County
Science & Justice students trekked to Independence Grove outside Libertyville earlier this week to study aspects of lake ecology. One of the highlights was a giant canoe which the students paddled to a buoy where they took water samples at different depths, and measured the turbidity of the water. Students also studied how towns, farms, and industry contribute to pollution; they tested the water samples they took in the boat, and they took various soil samples from around the lake and identified the geologic matter.
Clockwise from left: lowering a black and white disk into the water and measuring how far down it remains visible; pulling up a water tube, or discrete water sampler; adjusting the water tube  before lowering it into the water.
Above, left, a model of a town with surrounding farms, industry, waterways, suburbs. Students took turns adding 'pollution' (colored water) to the pollution sites, and watched the pollution either flow down to the drinking water source or be absorbed by a small sponge — a wetland.
Above, groups of students conducted water testing.
Sometimes the water testing became more active.
Finally students dug into the soil for samples. Sometimes the soil was rock hard, sometimes muddy and could be rolled into mudballs. A long but fun scientific day!
Sept. 15, 2017
Truly seeing in Essayistic class
Week One of the Justice Project started with the Essayistic class discussing kinds of writing and engaging in observational writing, as students observed each other and wrote about what they saw.
After Essayistic, students worked through their lunch break to start developing their code of conduct and hashing out what behaviors they wanted to promote among themselves. In Pre-Law/Mock Trial, students shared 'crazy' laws from around the world, and began examining how laws get made. Science & Justice students discussed the intersection between science and activism, and began thinking about their projects. Long day, but very productive!
Sept. 12, 2017
Water Testing at Botanic Gardens
Students in the Science & Justice class kick-started their studies with a field trip to the Chicago Botanic Gardens this past Tuesday where they conducted water testing on the lagoons that snake from the North Branch of the Chicago River through the gardens. Students tested the turbidity of the water (how much sediment it contained); tested the pH and nitrate levels (indicates levels of fertilizer washed off upstream) and closely examined and identified macro-organisms lurking in the aquatic plants.
Above, a student holds a clump of aquatic plants in his hand while searching for macro-organisms. Right, larvae, worms, and other organisms were isolated in ice cube trays for identification. Bottom, left, students poured water into a clear tube to measure the turbidity.
Sept. 9, 2017
Orientation Day at TLL
Teen Learning Lab welcomed 26 students to the Justice Project on Friday! Instructor Leslee Dirnberger led the students in various team-building exercises and discussions of personality attributes.  Time-management, perfectionism, and strong personality traits fueled great discussions and helped students understand themselves a bit and will help them work together on the long-term projects instructors have planned for the year. We heard a lot of laughter throughout the day. Great discussions!